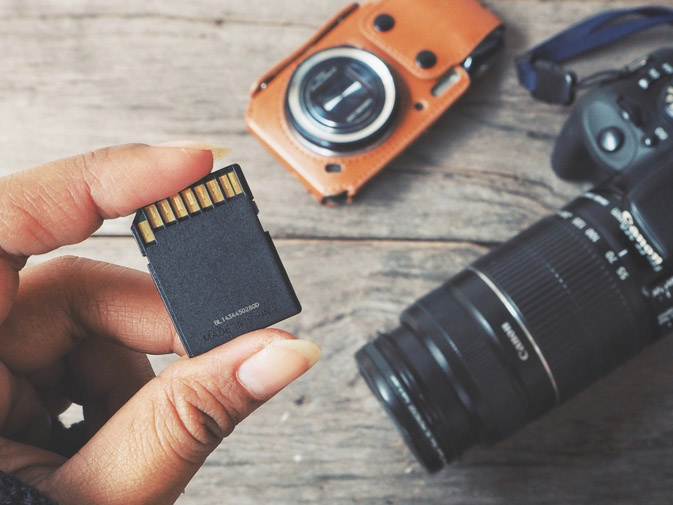 DataTech Labs® understands that the thought of losing irreplaceable memories can be devastating. Many of the images captured on a digital camera card cannot be replicated. Our professional engineers can help retrieve seemingly lost images from failed camera cards. DataTech Labs has developed state-of-the-art camera card data recovery technology and techniques to ensure the best possible chance of recovering your data.
Some of the most common causes of digital camera card failure:
Physical damage – These small cards can easily be dropped, bent, and crushed which can damage the internal components of the card. Physically damaged camera cards need to be examined in our Class100 Cleanroom in order to recover the drives data and determine the best camera card data recovery solution.
Data corruption – Data corruption can be caused by static electricity (can also cause physical damage), software malfunction, or not properly removing the device.
Deletion or re-formatting – A camera card can be accidentally re-formatted or pictures can be deleted during transfer or editing.
Liquid & heat damage – Cameras can easily be dropped in water or left in extreme temperatures. Both of these scenarios can cause damage to the internal components of the camera card.
DataTech Labs removable media engineers can recover data from all of the above failures and have already seen most scenarios imaginable. Whether your camera card is cracked, submerged, or stepped on we can help retrieve the drive's contents with quick, comprehensive camera card data recovery.
Here are some useful tips to protect your camera card and its data:
Safely Handle and Store Your Camera Card: Physical damage to cards can lead to data loss. Store the devices in a protective case or sleeve when not in use to prevent accidental damage.
Regularly Back Up Your Data: Make it a habit to back up your camera card's data to a separate storage device or cloud storage. This way, even if your camera card fails, you'll have a copy of your images.
Use Reliable Software and Devices: Use reliable, up-to-date software for transferring, editing, and managing photos. Substandard or unauthorized software may cause data corruption or accidental deletion, which may require camera card data recovery.
Safely Eject Your Camera Card: Before removing your camera card from a device, always follow the proper ejection procedure to prevent data corruption. Improperly removing the card can lead to file system errors and data loss.
Protect Your Camera Card from Extreme Conditions: Avoid exposing your camera card to excessive heat, cold, or moisture. High temperatures or water damage can severely impact the internal components of the card, making camera card data recovery more challenging.
By following these best practices, you can significantly reduce the risk of camera card data loss and ensure the safety of irreplaceable memories.
Below is just a sample of the digital camera types and formats we recover: