Data Recovery Scholarship – YouTube Challange – $1000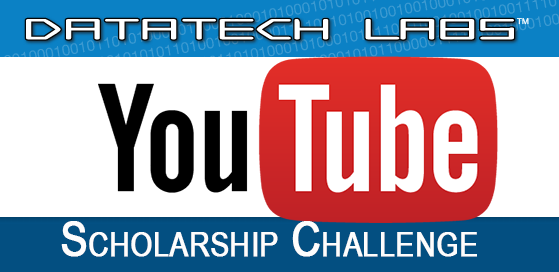 Criteria:
We are looking for creative geniuses to come out of the works to make a clever parody about our company. We want to see your best music video that describes our advantages and services using any song on the "Billboard Top 100" and the information we provide to you about Datatech Labs. Basically, we want you to help make us look good. In return; we will give you $1000 towards school! Please be appropriate and have fun with it.
Requirements:
You must be either a high school senior who has been accepted into a college/university/trade school or a current student enrolled in a college/university/trade school
You must include the Datatech Labs Frame as the closing frame of the video.
You must Submit your video for approval

We will first evaluate your video before posting to make sure content is appropriate
Once approved by Datatech Labs, we will upload your video and send you the link

Get as many likes as you can for your YouTube submission from your friends and families
ALL REQUIREMENTS MUST BE MET TO QUALIFY FOR THE SCHOLARSHIP
Submissions will be judged on:
50% will be determined by Datatech Labs on creativity and effectiveness of representing the company.
50% will be determined on how many "likes" your YouTube video has.
Deadline: December 31, 2014
*A winner will be selected by January 31, 2015
---
Information about DataTech Labs ®
DataTech Labs ® Data Recovery is a nationwide leading provider of data recovery services. Headquartered in Denver Colorado, our professional data recovery lab can recover data from all media devices to include hard drive data recovery, raid data recovery and server data recovery utilizing cutting edge proprietary software, mechanical engineering and innovative procedures. Our highly skilled engineers are experts in dealing with failed hard drives and RAID arrays.
Founded in 2006 by owner Jeff Patrick, Datatech Labs Data Recovery specializes in recovering data for all types of data configurations including:
Hard Drive Data Recovery
Hard Drive
Hard Disks
Computer Data Recovery
Laptop Data Recovery
 RAID Data Recovery
RAID 0, 1, 3, 5, 6, 10, 50 & JBOD
Server Data Recovery
NAS
SAN
VMFS (Virtual Machines)
Operating Systems
Windows
Apple Mac/Macintosh
Linux
UNIX
Removable Media
External Hard Drives
Flash Drive
Camera Card
Tape Data Recovery
Advantages of Datatech Labs:
FAST Turnaround (within 72 hours) – In most cases, we will recover your data within 72 hours of receiving the failed drive.
Leading Expert Engineers in Data Recovery– With decades of experience, our engineers have seen any and all type of failures and can handle anything that comes their way.
Consistently Highest Success Rate in the Industry – Recurring weekly, we have an average success rate of 90+% full recoveries. Meaning we are great at getting all your data back.
No Data, No Fees Policy – We will not charge you if we can't recover any of your data –full reimbursement and help recycling or mail return options are available to deal with your failed drive.
Expedited and 24/7 Emergency Service Available – If you need your data recovered fast, we have expedited services where we will make your case an engineer's priority in the work week and emergency service where we have multiple engineers working around the clock to get your data back.
Data Recovery Priced on Complexity – Not Value – Unlike most competitors, Datatech labs makes price estimates on how complicated the recovery will be, not on size of the system, how important that data is, or who that data is for. This helps us provide optimal prices to our customers.
2 Dedicated Laboratories – One located in Boston and One in Denver, our state of the art laboratories are dedicated to all types of recovery for fast turnaround and vast preparedness for any drive failure that comes our way.
Class 100 Certified Clean Room – To repair hard drives, we need to keep them safe from contamination. With our ISO 5 certified 100 clean room, your drive is safe from debris and dust that could damage your hard drive during recovery.
# of Locations: 45+ All Over the Nation | Motto: We'll Get your Data Back FAST| Website: www.datatechlab.com
Largest Lab Locations: